Writing – It's not all in the mind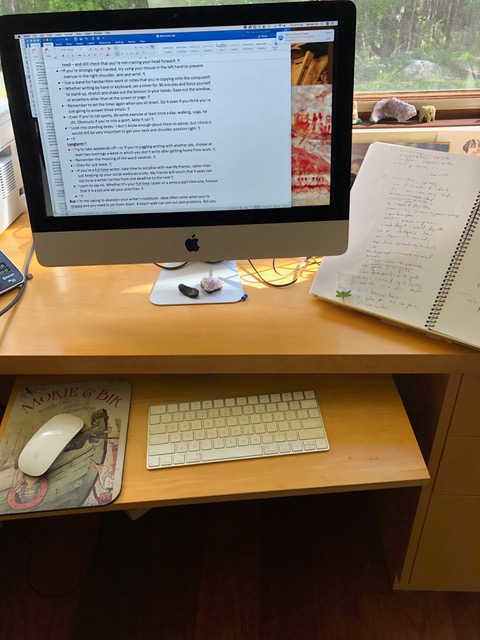 Write every day, the writing gurus say. Just like an athlete in training, you must practise, practise, practise, to improve your craft. Discipline is key.
Discipline, yes. Practice, yes. Every day? Let's be realistic. Let's think about whether you want to publish one book or be in it for the long haul. And for a moment, let's look at the physical side.
I've made a living as a full time writer for the last 25 years. I have spells of setting goals of taking weekends off, though in practice that means simply not doing new writing. There is always a lot of other admin work – answering readers' letters, questionnaires, etc. And of course, the blog and newsletter, which anyone following will know have been desperately neglected.
'Mum,' my daughter said once, 'did you know that normal people not only take weekends off – they get holidays and sick leave?'
I do take holidays, of course, and very occasionally I've been too ill to write – but I usually do some work while I'm on holidays, and worry about the wasted time if I'm sick. (Hmm. Working while on vacation… anyone spot a contradiction in that phrase?
Before you think I'm actually doing that inverse bragging thing – my point is that I've been constantly unwell since finishing Swallow's Dance in April. So, yay me, I worked for four years with no real breaks, going straight from Dragonfly Song to Swallow's Dance – and then barely worked for 6 months. Which would be okay if I'd had fun, but the truth is, it was lousy. I caught every virus around – suggesting my immune system was down – but the main part was neck pain, sometimes debilitating and occasionally terrifying. It was finally relieved by a cranial osteopath in Honolulu. Obviously regular treatment there is not an option, so I'm determined not to reach that point of desperation again.
Most of you probably haven't had broken and displaced neck vertebrae, or old whiplash injuries, but if you're a serious writer, you're more than likely to have some postural problems. And we don't have to – we just have to be careful.
So here are my suggestions:
Daily work
Be aware of your posture if writing by hand. You don't need to be a tortured artist hunched over your page.
Work at a desktop computer when possible. If using a laptop or iPad, position it so that you are looking as straight ahead as possible.
Sit square and upright, avoiding tucking your bottom in or curving your spine.
Have your keyboard so that your forearms are at a 90' or greater angle from the elbow; it's nearly impossible to keep your shoulders relaxed if you're working with your hands up high. Ideally, use a keyboard drawer.
Don't peer forward at your screen. Try enlarging the font more than you think you need – and still check that you're not craning your head forward.
If you're strongly right handed, try using your mouse in the left hand to prevent overuse in the right shoulder, arm and wrist.
Use a stand for handwritten work or notes that you're copying onto the computer
Whether writing by hand or keyboard, set a timer for 30 minutes and force yourself to stand up, stretch and shake out the tension in your hands. Gaze out the window, or anywhere other than at the screen or page.
Remember to set the timer again when you sit down. Do it even if you think you're just going to answer three emails.
Even if you're not sporty, do some exercise at least once a day: walking, yoga, tai chi. Obviously if you're into a sport, keep it up!
Look into standing desks. I don't know enough about them to advise, but I think it would still be very important to get your neck and shoulder position right.
Longterm:
Try to take weekends off – or if you're juggling writing with another job, choose at least two evenings a week in which you don't write after getting home from work.
Remember the meaning of the word vacation.
Ditto for sick leave.
If you're a full time writer, take time to socialise with real life friends, rather than just keeping up your social media accounts. My friends will vouch that 4 years can slip by as a writer lurches from one deadline to the next.
Learn to say no. Whether it's your full time career or a serious part time one, honour that it is a job and set your priorities.
But: I'm not saying to abandon your writer's notebook. Ideas often come when you're relaxed and you need to jot them down. A beach walk can sort out plot problems. But you don't need to feel guilty if you actually just enjoy the sea air and return invigorated.
And realistically, deadlines always seem to appear sooner than we expect, and sometimes you simply have to work 7 days a week for a while. But your body and your writing have to co-exist – you owe it to both of them to keep as healthy as you can.
Resources: https://www.wikihow.com/Sit-at-a-Computer
Donna Eden's 5 minute energy routine – try doing this before you settle in to write for the day. https://www.youtube.com/watch?v=Di5Ua44iuXc
---
---
Next post: Speaking on Turning History into Fiction at the Peninsula Writers Club on Wednesday, December 19th →
← Back to all posts
Wendy Orr is a Canadian-born Australian writer. Her books for children and adults have been published in 27 countries and won awards around the world. Nim's Island and Nim at Sea have also become feature films, starring Jodie Foster and Abigail Breslin (Nim's Island) and Bindi Irwin (Return to Nim's Island.) Her latest book is Cuckoo's Flight, a companion to the highly acclaimed Bronze Age novels Dragonfly Song and Swallow's Dance. Read full bio
About Wendy
Subscribe to my email newsletter for updates