Dragonfly Song Giveaway: Books & Skype Talks
Kersey Creek's photo from OneSchoolOne Book
Have I ever said how much I love Skype talks? I think the biggest percentage I do are with schools in the USA that are studying Nim's Island for One School One Book. (I will blog about that amazing program another time.) In Australia I've done them for general writing talks as well as for individual books.
And now I'm so excited about the feedback and reviews I've been getting for Dragonfly Song, both formal and informal (like people phoning and emailing to say they're loving it – that is so nice!)  that I'm offering a free Skype talk to the first three schools to order a class set. 
e.g.
 Dimity Powell writes: '…the sweeping majesty of an epic novel and the thrill of a mid-grade fantasy that will win leagues of young new fans. Powerful, eloquent and moving, 
Dragonfly Song
 is a story you will never want to leave.'  
And Pamela Freeman (Pamela Hart) said on 
Facebook
: 'Everyone must read this. It's right up there with The Wizard of 
Earthsea and Mary Stewart's The Crystal Cave.'  
A whole list of quotes like this might not thrill you as much as it does me, so I'll quit there. Teaching notes and an excerpt
 from the book can be downloaded from my website: marcw87.sg-host.com or Allen and Unwin.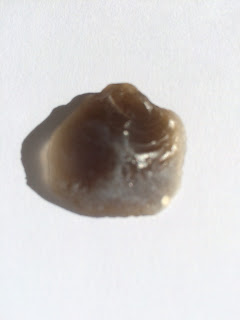 A piece of chipped flint, like Aissa's 'knife'
The books is suggested for ages 9 to 13, and ties in with the Victorian ancient history units in Year 7, but I'm visiting a school next week that's looking at it for their Year 10 classes. Have a look at the excerpt and decide for yourselves!
---
---
Next post: The gift of bonded pair rescue cats - Harry the Rescue Dog's Rainbow Street Animal Shelter blog →
← Back to all posts
Wendy Orr is a Canadian-born Australian writer. Her books for children and adults have been published in 27 countries and won awards around the world. Nim's Island and Nim at Sea have also become feature films, starring Jodie Foster and Abigail Breslin (Nim's Island) and Bindi Irwin (Return to Nim's Island.) Her latest book is Cuckoo's Flight, a companion to the highly acclaimed Bronze Age novels Dragonfly Song and Swallow's Dance. Read full bio
About Wendy
Subscribe to my email newsletter for updates