Champ's Story of Survival – a Real Life 'Rainbow Street Animal Shelter' story
Today, Harry the Rescue Dog is interviewing Champ for his
Rainbow Street Animal Shelter
blog post with special thanks to Fiona Ingram for translating, and for including Champ's poem as well!
Tell us a bit about your story?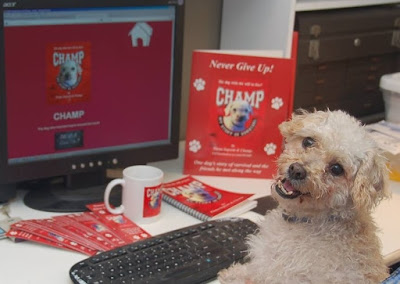 Hi Harry, thanks so much for featuring my story on your blog. By the way, what a great blog! I read that you are a rescue dog too. My story has a wonderful happy ever after ending and I'm such a lucky pup for that. I was treated very badly by my previous owners, and it's a good thing my memories of those bad times are a bit hazy. I was actually saved after my owners wrapped me in two plastic bags and dumped me at a shelter. I guess they thought I was dead, and I thought I was dead too – but I wasn't!
I was saved by a caring animal rescue organization called S.A.F.E. Rescue in California, and they made sure I came back to life with lots of love, medical care, and good food. My life just turned around. Then a children's author called Fiona Ingram (who is also a devoted animal lover) saw my story on Facebook and asked me if I'd like to be a co-Pawthor on a biodography. Of course I said yes! What pooch wouldn't? I thought this is my chance to tell people how to love and care for their pets, and to say NO to animal abuse.
You may be wondering what's in my book; is it all just sadness and tears? No, there's a bit about that in the beginning to explain to readers how the book came about, but there's tons of happy, fun stuff. I wrote Mi Happy Eva After Pome to say how things happened. And then I also wrote a super hero short story, starring me, for younger readers. How Superdog Champ Saved the Day is very exciting. It's how I saved the dogs of Thousand Oaks, California from being dognapped by bad guys. There's also lots of helpful stuff about how to look after pets, how to help animals in general, and how to be a good citizen and help elderly people who may not be able to care for their pets any more.
I hope people who love animals will buy my book because the proceeds go to S.A.F.E. Rescue so they can help even more animals like me get saved and find new homes. Here's something cool – if people buy my book on Amazon, I can Pawtograph it for them!
What's the best thing about living in your home now?
Having people who love me, people who care about me, people who take me for walks with all my other doggy siblings; having a lovely cuddly warm bed to sleep in, and just knowing that when I open my eyes every morning I am safe, loved and secure. No more pain and heartache, no more tears.
First, adopt, don't buy. There are so many adorable animals, just like me, who are longing to find their Fur-ever Family. And rescues make the most wonderful loving pets because they are so happy to be with a caring family. Second, make sure you have the time to spend with your pet; that you have the right environment and enough space for it. Third, make sure the type of animal suits the mix of family members. If people are not so young any more, they should consider a more senior pet that won't jump about and demand lots of playful activities. Fourth, animals need the right food, regular dental and health check ups, and annual inoculations. These are all serious considerations before thinking about getting a pet.
I hope Harry's followers will look me up on Twitter and social media. I love making new friends!
Champ's Bio:
Champ is an adorable poodle mix. He loves to be loved, and has not let being a Pawthor celebrity turn his head. His favorite toy is his squeaky ball; and he loves going for walks and being cuddled. Collaborating on this book was the biggest step in his life and he hopes that people will love it to bits and tell the whole world.
Readers and supporters will agree with S.A.F.E. Rescue when they say: "
Champ has touched the hearts of so many people and has been an inspiration, if for no other reason than to bring awareness and attention to the plight of abused and neglected pets. They too just want to be loved and cared for and can and will blossom into wonderful companions with unconditional love, despite their past."
Fiona Ingram's bio:
Fiona Ingram is a South African children's author. Her multi-award winning middle grade adventure The Secret of the Sacred Scarabis the first in her adventure series Chronicles of the Stone. Fiona loves animals, reading, books, anything artistic, travel (any excuse), and especially doing research for her books. Fiona has an amazing adopted daughter, Mabel, and is passionate about getting kids to love reading. Writing this book with Champ has been an absolute joy. Find out more about Fiona on her website. Find out more about her animal rescue books on Caladrius Books.
On May 11, 2013, a little dog was dumped at a California animal shelter. He was enclosed in two sealed plastic bags, with another one over his head and tied around his neck. Miraculously, the shelter vet was able to revive him. More miracles happened. He was taken in by S.A.F.E. Rescue animal shelter in Thousand Oaks. Hundreds of supporters on Facebook followed his precarious road back to health. Again, the odds were stacked against him: his condition was so bad, his wounds so deep. But this little champion (renamed Champ) decided to live. A torrent of love and funding poured in for Champ. Many people said Champ and his brave little struggle for survival had changed their lives. From being beaten by life, Champ has become an inspiration and penned his tale Champ: My Story of Survival with the help of biodographer Fiona Ingram. Please share Champ's story: it deserves to be told.
---
---
Next post: Keeping First Draft Creating separate from Editing →
← Back to all posts
Wendy Orr is a Canadian-born Australian writer. Her books for children and adults have been published in 27 countries and won awards around the world. Nim's Island and Nim at Sea have also become feature films, starring Jodie Foster and Abigail Breslin (Nim's Island) and Bindi Irwin (Return to Nim's Island.) Her latest book is Cuckoo's Flight, a companion to the highly acclaimed Bronze Age novels Dragonfly Song and Swallow's Dance. Read full bio
About Wendy
Subscribe to my email newsletter for updates