The award Nim would be most proud of
The environment and children's literature are two things I care about passionately, so I was absolutely thrilled last Tuesday night when, at a lovely event at the Melbourne's Little Bookroom,
Rescue on Nim's Island
was awarded the Widlerness Society's Environment Award for Children's Literature (fiction) ­– and the inaugural Puggles (children's choice) award as well!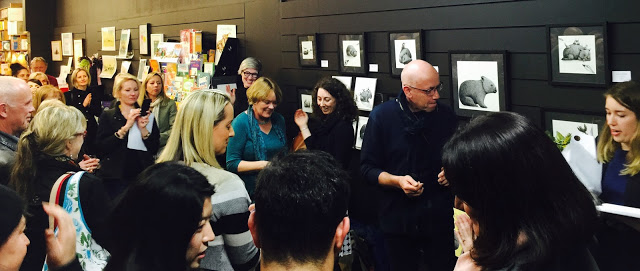 The Little Bookroom, photo by Elise Jones
When I first wrote Nim's Island, I didn't set out to make Nim a wildlife warrior. She just ended up one because if you live in a pristine natural environment, you have to care about keeping it pure. If you have a friend who's a sea turtle, you care about whether she and her babies will survive. If you live on a small island, you know that every part of the island works together, and if you damage any part of it, it will damage the whole. We live on a big island in Australia, and other continents are bigger still, but the principle is the same.
Hollyburn School, Vancouver, using Nim as an environmental hero, 2008
But the good news is that every good thing you do for the environment can have big effects too ­– and it's important to remember that we need to start with what's right around us. You can sign a heap of petitions to save whales, but if you plant the rushes that indigenous butterflies breed in, you can help to save a species in your own garden.
And that's really what Nim does. You don't have to be quite as dramatic as she is – it's probably best not to look for dynamite to defuse, but I guarantee that you can make a difference. If you read the books on this list, you might find surprising ways to do it. I'm reading one of the shortlist right now:
The Vanishing Frogs of Cascade Creek
, by Emma Homes, and I'm learning lots!
With illustrator Geoff Kelly, photo by Coral Vass
With author Emma Homes

for the whole list and more pictures of the great evening, hosted by the lovely Leesa Lambert, with an inspiring keynote speech by Morris Gleitzman. And a special thanks to Coral Vass for allowing me to use her photographs.
Meeting Rescue on Nim's Island illustrator Geoff Kelly for the first time,
photo by Coral Vass
---
---
Next post: →
← Back to all posts
Wendy Orr is a Canadian-born Australian writer. Her books for children and adults have been published in 27 countries and won awards around the world. Nim's Island and Nim at Sea have also become feature films, starring Jodie Foster and Abigail Breslin (Nim's Island) and Bindi Irwin (Return to Nim's Island.) Her latest book is Cuckoo's Flight, a companion to the highly acclaimed Bronze Age novels Dragonfly Song and Swallow's Dance. Read full bio
About Wendy
Subscribe to my email newsletter for updates