Thirty years in the making – where did Nim come from?
The wonderfully zany and multi-talented author
Tristan Bancks
said I had to write a blog post about my character or he'd never speak to me again. I mean, he invited me to be part of a character blog hop. You can meet his character
Tom Weekly
here.
Since it's quite a long time before you'll the character who's taken over my life and computer right now, I'm going to introduce Nim. Even if you've met her, you might find out something new.
1) What is your character's name?
Of course she is! She's brave, adventurous, resourceful. A bit hot-tempered too, but I had to make some things up.
But Alex Rover, the agorophobic adventure writer is based on me too.
Maybe I should say that Nim is based on how I'd have liked to be when I was her age. In fact, when I was writing the first book, Nim's Island, Nim didn't come to life until I remembered how I'd felt when I was 9 year and wrote a story about a little girl who runs away from an orphanage to live on an island. I wasn't a particularly brave or capable kid, so I created a character who could be all the things I wished I was. Thirty years later, that character and her story grew into Nim.
3) How old is Nim?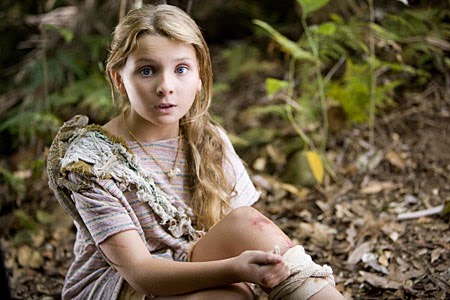 Abigail Breslin as Nim
I never wanted Nim to have a specific age. When I wrote the first book I wanted her to be whatever age the reader wanted her to be – and because she didn't go to school or have human friends, it was easy to do that. But when you see a movie you know how old the actor is, so in the movie Nim's Island, Nim was 11, as the actress Abigail Breslin was at the time. In Nim at Sea she was between 11 and 12, but in the film of that book, Return to Nim's Island, Bindi Irwin was 14, so Nim was too. In Rescue on Nim's Island, I think she's close to 13 – but she'll be older in the film.
Bindi Irwin as Nim
4) What should we know about Nim?
She's really just a normal kid whose life has made her become braver and more self-reliant than she might have been if her parents had worked in the city and sent her to school. But after meeting other kids in Nim at Sea and Return to Nim's Island, she does want to have human, kid friends as well as her animal friends. She has to learn to do that in Rescue on Nim's Island (as well as discovering fossils, blowing up caves, etc.) Learning to get along with the other kids and figuring out what's going on is the hardest thing she's had to learn!
5) What are Nim's personal goals?
I don't know if Nim would say, 'saving the planet', but in some ways that is her aim. She certainly wants to save her island and all the species on it.
And she wants the horrible twins Tiffany & Tristan to like her. (Sorry, Tristan!)

And for Edmund to really like her.
And for Selkie and Fred to stay happy and healthy forever.
And I think she has a secret wish about her dad and Alex Rover…
6) Where can we find out more about the books?
Just click the links below. Nim's Island is the first, and Rescue on Nim's Island is the newest – it just came out last year.
And now I'm going to nominate
Sheryl Gwyther
and
Kathryn Appe
l to introduce their characters. Check their blogs next week or so and see if they've taken up the challenge!
---
---
Next post: Happy Lunar New Year - and a book excerpt. →
← Back to all posts
Wendy Orr is a Canadian-born Australian writer. Her books for children and adults have been published in 27 countries and won awards around the world. Nim's Island and Nim at Sea have also become feature films, starring Jodie Foster and Abigail Breslin (Nim's Island) and Bindi Irwin (Return to Nim's Island.) Her latest book is Cuckoo's Flight, a companion to the highly acclaimed Bronze Age novels Dragonfly Song and Swallow's Dance. Read full bio
About Wendy
Subscribe to my email newsletter for updates