Holiday season story starters – using the stories, emotions and memories triggered by objects
The holiday season can be joyous: all that family, expectation and tradition – but it can also be difficult: all that family, expectation and tradition. Usually it's both. If you're a writer, that tension and drama means a huge source of potential inspiration.
So [ay attention to the thoughts, memories and emotions that come up with various triggers at this time of year, whether you celebrate Christmas, Hanukah, or nothing at all. Remember that there are no rules about what you should feel – if a beautiful ornament reminds you of sibling rivalry, or a Christmas carol leaves you feeling excluded, those are great story starters. All you need is that one trigger; the story may end up a long way from the object, the memory, or Christmas.
I've chosen a few of my own Christmas ornaments and will share some of the thoughts that come up for me. They may be prosaic, but all that any prosaic idea needs is a twist to inspire a story.
Every year when I pin this tiny hanging to a wall, I am transported back to my eight year-old self in a prairie town in Alberta, Canada. It was a gift from a young Danish woman who was living with my family because her husband, an Air Force trainee, wasn't supposed to be married. So as well as the warmth of remembering 'my Danish sister' when I handle it, I feel a slight sense of intrigue and mystery that I loved to embellish – she may have lived in the basement because there weren't any spare bedrooms upstairs, but a story-telling mind could always wonder whether it was also to keep her hidden….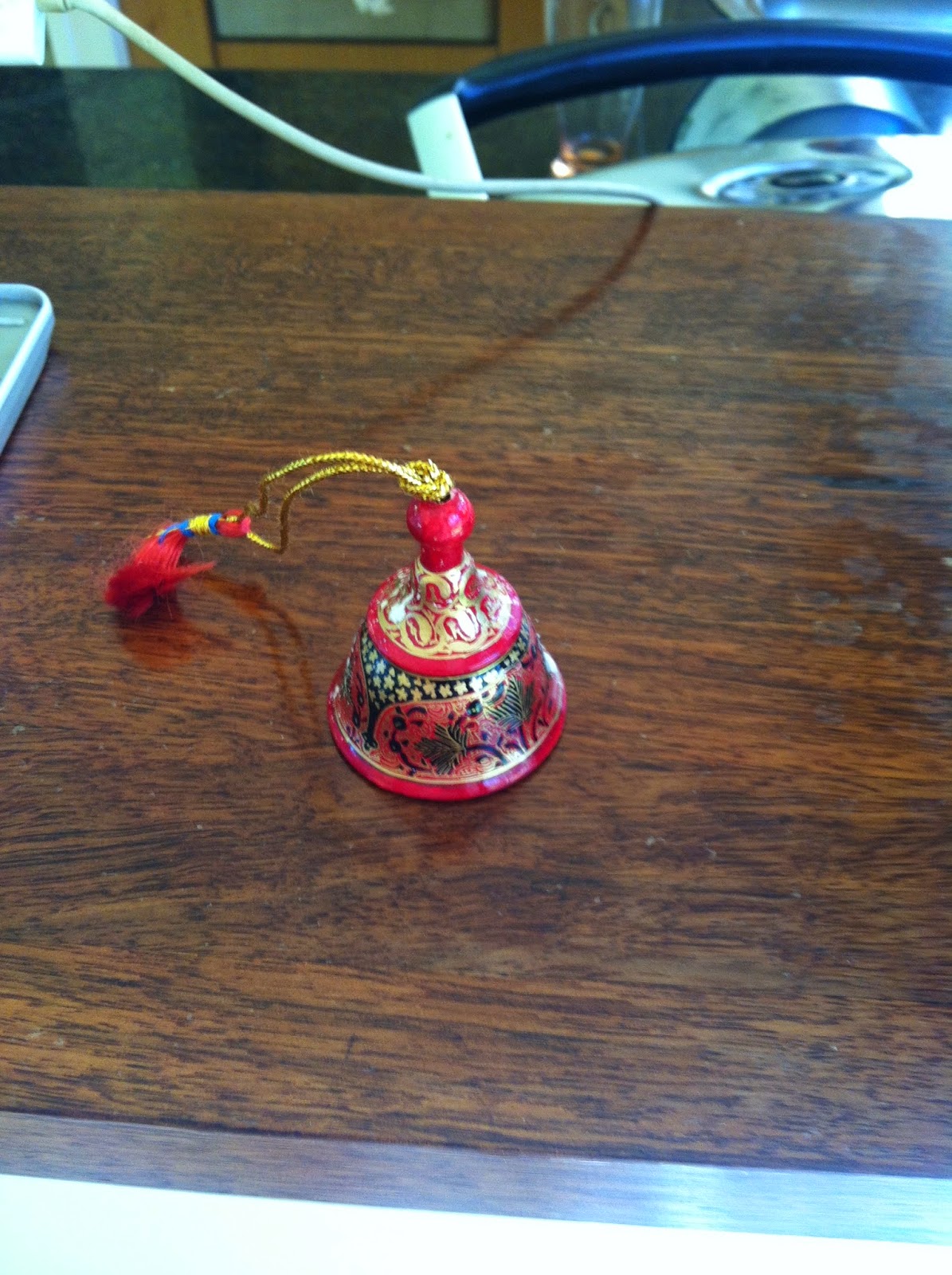 This paper maché bell came from New Delhi,
when I was there for the Bookaroo Children's Literature Festival. Of course it reminds me of that, the people I met there and the whole mind-boggling experience. It also makes me wonder about the person who made it, their life and emotions while making it. Did they wonder where some of their little bells would end up?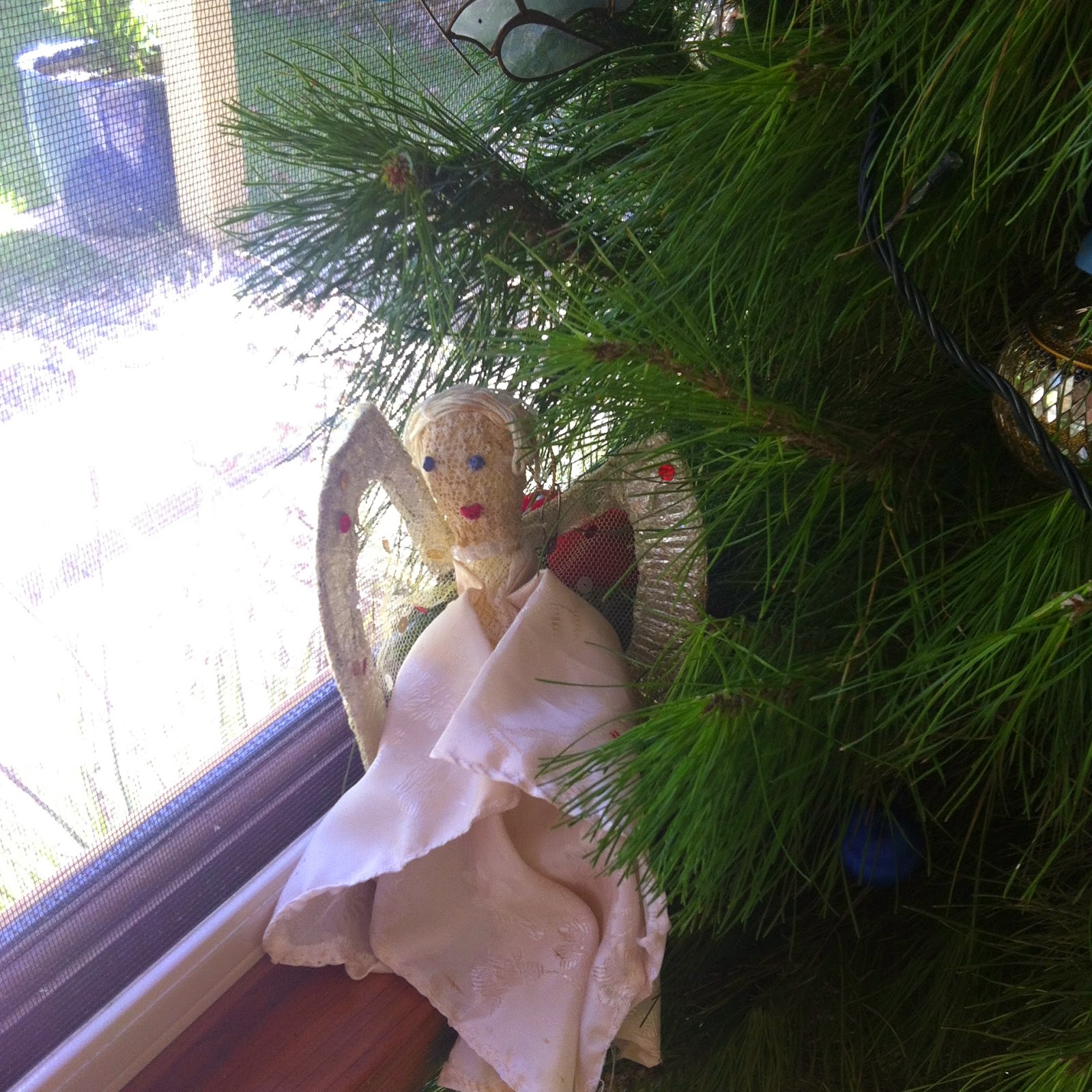 I made this rather bedraggled angel on my first Christmas in Australia. I'd just turned 22 and had been married nearly a year; it was my first Christmas away from my own family. I desperately wanted some of the traditions I'd grown up, including an angel on the Christmas tree. (Which that year was simply a branch.) We had no money at all, but I found a plastic skittle, an old lace glove and a torn doll's dress in a shed on my parents-in-law's farm…
One of my favourite ornaments was a gift of a bread-dough snowman from by a Jewish friend's son when they spent Christmas with us. (Yes, we had a kosher chicken as well as the turkey.) There's no picture because the dog ate it last year. But that could be a story in itself…
---
---
Next post: Thirty years in the making – where did Nim come from? →
← Back to all posts
Wendy Orr is a Canadian-born Australian writer. Her books for children and adults have been published in 27 countries and won awards around the world. Nim's Island and Nim at Sea have also become feature films, starring Jodie Foster and Abigail Breslin (Nim's Island) and Bindi Irwin (Return to Nim's Island.) Her latest book is Cuckoo's Flight, a companion to the highly acclaimed Bronze Age novels Dragonfly Song and Swallow's Dance. Read full bio
About Wendy
Subscribe to my email newsletter for updates