Dear Teen Me, Find me a novel!
If you're looking for ideas for a book, thinking of using an episode from your own childhood or younger self for a story plot, or of using one aspect of your personality for a character, writing a letter to that self is a great way to start.
I was recently asked to write a letter to my teenage self for Dear Teen Me. As most things do, it took a lot longer than I expected, but that was mostly because I hadn't anticipated it would be as powerful as it was. I wrote several versions, because there were so many angles that each one could have filled a book. Who knows? They may very well do that one day. I remembered things I hadn't thought of for years: some seemed insignificant, but the fact that I remembered them suggests there was something important in there for me. Or maybe they weren't so much an incident as a could-have-been – the ideal story seed. The what-ifs, could-have-happened, are much easier to base a story on than real life, because there are no messy facts getting in the way. Using real incidents in fiction can be tricky because there's a tendency to want to put it all in, to justify the character based on yourself, to get everything straight… all things that can easily derail good fiction.
But there were many more memories that I hadn't seen as particularly significant when I was busy living them, that I see now were in fact quite traumatic, or at least affected me much more than I'd realised. Again, many of them would be excellent story starters. In fact, I'm sure that any year, or week of a life, reflectively examined, is full of more ideas for novels than anyone is likely to be able to use in a lifetime of writing. As usual, it's just finding the ones that are ready to strike roots and grow. They probably won't be the same ones as they might have been a year ago, or next year – though I suspect that if they are, that's the novel that you really need to write.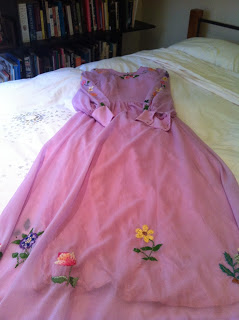 The prom dress I spent most of a year making & nearly didn't get to wear
The value of writing a letter to this mythical you is the way that it distances even as it reflects, which makes it quite a different exercise to simply exploring a memory.
Try it. You may be surprised at what comes up for you, and what stories could grow from it.
The pictures are a bit random, except that they're all ones that could start a story…
Wendy and her cousin's horse near Lillooet, BC, 1971. 'Of course I'll ride it for you,' I said on hearing that the horse hadn't been ridden for several years. The first hospital visit for the year was just hours away.
With high school friend Fran, 1972
and 2013
---
---
Next post: How do you start a new story? 12 Points for Facing the Empty Page or Blank Screen →
← Back to all posts
Wendy Orr is a Canadian-born Australian writer. Her books for children and adults have been published in 27 countries and won awards around the world. Nim's Island and Nim at Sea have also become feature films, starring Jodie Foster and Abigail Breslin (Nim's Island) and Bindi Irwin (Return to Nim's Island.) Her latest book is Cuckoo's Flight, a companion to the highly acclaimed Bronze Age novels Dragonfly Song and Swallow's Dance. Read full bio
About Wendy
Subscribe to my email newsletter for updates