Singapore: authors, chilli crab, morning TV and bumboats
Blame overwhelm rather than lack of interest for my very late posting about the Asian Festival of Children's Content in Singapore last week. It's a great festival, with that huge buzz of meeting other authors: friends old and new. Presenting on Trauma and Challenge in YA lit with Susanne Gervay, we agreed on every point, though it was interesting to see the differences in how we framed them. (I had to think fast, having gone second!) In the end I think both of our talks could be summed up as: Young people deserve the truth, and we should respect them enough to know they can handle it.
"Imagining Nim's Island" photo by Nazir Keshvani
Had a great response to my Book to Blockbuster session too, but the one I was most nervous about was being on the panel for a First Pages Critique. However the moderator, author Kathleen Ahrens is highly skilled and set it up so well that it flowed beautifully. It was fascinating to see how often the publisher and editor on the panel with me put their fingers on exactly what made me uncomfortable about a sentence, paragraph, or page. It was also intriguing to start thinking about something that was nearly working, 'But if you moved this sentence up here…' etc.
Sad remains of chilli crab (thanks to Sue Flotow)
And what a thrill to not only be met at the airport by Singaporean author David Seow and a lovely bunch of orchids, but taken out to a chilli crab dinner by the Singaporean SCBWI members. And yes, it was as delicious as reported, but the conversation was even better.
David Seow, author of Emma's Elephant (and many others)
Singapore SCBWI friends
Another night we were taken to
Lau
Lau Pa Sat Satay Street by Nazir Keshvani, a Singaporean journalist who'd attended my session on "Imagining Nim's Island" with his son Kiran on the parents and children's day. Kiran, a budding journalist, interviewed me throughout the dinner and was most indignant when his mother or sister added their own questions. (The family also took us to the airport when we left – we felt extremely well cared for the whole time we were in
Singapore!)
budding journalist
On the set of AMLive with hosts Yvonne and Patrick, photo by David Seow
The lovely Kumudha, PR person extraordinaire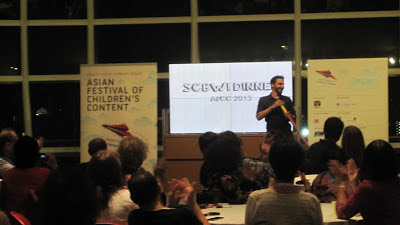 Nick Mark – who not only writes book in Indonesian, but can play the didgeridoo – at the formal closing SCBWI dinner
---
---
Next post: Good morning Singapore: Nim Stories interview on AM Live! →
← Back to all posts
Wendy Orr is a Canadian-born Australian writer. Her books for children and adults have been published in 27 countries and won awards around the world. Nim's Island and Nim at Sea have also become feature films, starring Jodie Foster and Abigail Breslin (Nim's Island) and Bindi Irwin (Return to Nim's Island.) Her latest book is Cuckoo's Flight, a companion to the highly acclaimed Bronze Age novels Dragonfly Song and Swallow's Dance. Read full bio
About Wendy
Subscribe to my email newsletter for updates