Artists and Animals: Wendy Orr and Harry
Wendy Orr with Harry, the day he arrived
Today I'm interviewing myself – because, believe it or not (!) I'm also rather fond of, and inspired by, animals.
Have you ever been inspired by an animal, or animals in general, in your life or art?
Bear, who inspired the first Rainbow Street story
I always find animals inspiring in their attitudes to life, disability and death. When I was a teenager in rural Nova Scotia, our cat BC (Barn Cat, though he changed it to Bedroom Cat) lost his leg in a porcupine trap.I can still feel the shock and horror of finding him in this hideous device – but once he'd recovered physically, he went on to a long and apparently happy life, never seeming to mind that he had only one front leg. And a few years ago, when my dachshund Max was dying of an aggressive stomach cancer, it was inspirational to watch his decisions on conserving his energy to do only the things he most loved.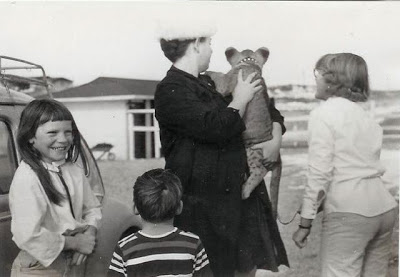 With the lion cub who inspired A Lion Called Kiki
In my books, of course the most recent example is the Rainbow Street Animal Shelter Series (USA and Canada) or Rainbow Street Pets (Australia.) Most of the stories were inspired by animals I've known: LOST! A Dog Called Bear, ABANDONED! A Lion Called Kiki were based on real animals, STOLEN! A Pony Called Pebbles was based on finding a mysterious horse and pony in a makeshift corral when I was out riding in the foothills in Colorado. And all the animals, in all the stories, have been influenced or directly inspired by animals I've known.
In fact, nearly all my books have animals in them, whether they're a focus as in
Ark in the Park
, or a minor part like the light relief of the bouncy border collie Ben in
Peeling the Onion
.
Wendy Orr reading with Frieda
Did you have pets as a child? We had a dachshund named Frieda who had to stay
in Ottawa with my grandparents when we moved to France when I was three. She lived in on my dad's "Frieda's Great-Great-Great-Great-Grandfather stories" throughout my childhood. In France we had a beautiful big basset hound named James, who died tragically in quarantine when we returned to Canada. Another basset, Jill, arrived when I was seven, and was my constant companion until I left home. I also had a guinea pig named Susie Q, and later, as a student in London, a guinea pig named Henry. My mother fulfilled her lifelong ambition of owning a horse when we moved to Colorado when I was ten; Biddy taught us all to ride, and when we moved to Nova Scotia I also had my own horse, Tala. And of course, BC. Of course my sister and brother also had pets: at one point we had three dogs, three guinea pigs and five horses.
Wendy Orr and sister Kathy, with Jill the basset hound
Do you have an animal companion now? Harry came to us nearly 4 years ago, exactly a month after our 16 1/2 year old border collie Bear died. We hadn't wanted a dog yet, as we were leaving for a 5 week trip to Canada a couple of months later, but Harry had had a rough start to life. He'd been removed from his first home for terrible abuse. His next home had been loving but hadn't worked out because of the owner's illness. We'd met him and when we heard that he'd been returned to the Lort Smith Animal Hospital, I was devastated. We drove straight in and got him. We're constantly grateful that we did.
What would your pet tell us about you?
She needs to practise her ball throwing skills, and not spend so much time at the computer.
If you were an animal, what would you be?
I'd love to say an eagle, a dolphin… but probably a bumbling labrador.
Any advice for people wanting a pet?
Remember they're for life. Make sure they suit your lifestyle. But once you work it out, do it, because they will bring you joy, companionship and love. We all need something to love, and someone who needs us.
Favourite animal books?
So many… as a child, a Little Golden Book of Cleo the Basset; The Incredible Journey; The Yearling; My Friend Flicka; The Wild White Stallion; The Black Stallion
Two more recent ones that are stand-outs are Anthony Hill's The Shadow Dog, and Sharon Creech's Love that Dog. Both made me weep.
---
---
Next post: Halloween Story: The Ghost of Jack Henry →
← Back to all posts
Wendy Orr is a Canadian-born Australian writer. Her books for children and adults have been published in 27 countries and won awards around the world. Nim's Island and Nim at Sea have also become feature films, starring Jodie Foster and Abigail Breslin (Nim's Island) and Bindi Irwin (Return to Nim's Island.) Her latest book is Cuckoo's Flight, a companion to the highly acclaimed Bronze Age novels Dragonfly Song and Swallow's Dance. Read full bio
About Wendy
Subscribe to my email newsletter for updates