Artists and Animals: Katherine Battersby, Squish and Frankie
I first 'met' Katherine Battersby on Facebook and was intrigued by the title of the book she was working on: Squish Rabbit. When I finally met her in person I discovered that both she and the book were just as delightful as the title, and I was delighted to be able to launch it at her Melbourne launch last November.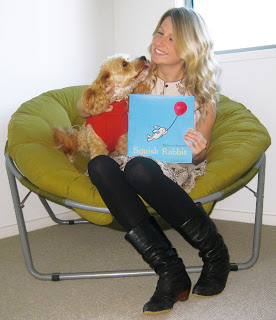 The day Squish Rabbit arrived
Katherine is the children's writer and illustrator of

Squish Rabbit

, which has been published in Australia, the US, China and other countries. She has had many short stories published in magazines and anthologies such as Short and Scary (Black Dog Books) and her second picture book, Brave Squish Rabbit, is due out in September. In 2010 Katherine was awarded a Marten Bequest Travelling Scholarship for her writing and in 2008 she won an Australian Society of Authors' mentorship. She adores reading, rabbits and anime and thinks exclamation marks are evil.
Have you ever been inspired by an animal, or animals in general, in your life or art?
Considering my first ambition in life was to become a park ranger (I used to say I wanted to be a bushranger before someone explained the difference) it's no surprise that animals feature regularly in my stories. And it's no secret that I have a bit of a thing for rabbits. My dad was British so I spent much of my childhood in England, visiting family and getting acquainted with the strange yet adorable wildlife they had hopping around their backyards. Some of the first characters I drew as an illustrator were rabbits. There's something about their shape that I love – a round softness, a floppy teddy-bear quality, with ears so perfect for capturing emotion. Squish Rabbit became a regular in my sketch books, but it was a while before his story hopped along behind and attached itself to him.
At the launch of Squish Rabbit
The rest of my picture book ideas are a veritable zoo, featuring everything from birds and pigs to bears and foxes. Actually I'm starting to realise all my picture book ideas come to me in the form of animals. That's what a good interview question will do … you've just given me a little bubble of insight!
Did you have pets as a child?
Yes – one tatty eared, cranky, snarled (yet still adored) cat. She was mine. In preschool my class went on a teddybear picnic to a local park and on the walk back a line of kittens trailed behind. After no one claimed them they were put in a big cardboard box and as the parents arrived, each kitten went to a new home. I chose Smokey, the female runt of the litter, who was covered in black and grey tiger stripes (that should have been a clear warning).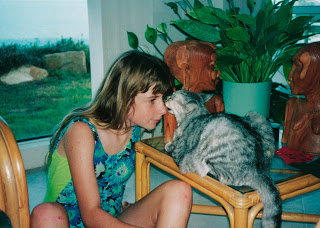 A rare moment of tenderness with my childhood cat
She never really liked people. We knew not to pick her up, and any guest at the house learnt quickly. Very rarely you'd be sitting on the couch and she'd slink over and perch stiffly on your lap, her way of showing begrudging affection, but even then only I was game to pat her – she could decide quickly she didn't like it with a swipe of her claws. She often slept on the end of my bed and I learnt how to sleep very still (my brother was less patient – he'd wrap his feet in his thick quilt and kick her off). Mum tried once to wash her – never again.
But I still loved her. She was my cat and she had spunk. To this day, even though she's been gone ten years, when I'm lying on the couch and go to put my legs up on the back I still flinch, as if she's there ready to swipe at me.
Do you have an animal companion now? How did it get its name? Does your pet have a story to share?
I have an adorable and vaguely ridiculous puppy named Frankie, whose name changes around a bit. If he's being a stately old gentleman he's called Frank. If he's being a clown he's called Franko. If he's being a monster he gets Frankenstein. If he's cross dressing (the dog groomer puts bows in his hair) he's Frankenfurter. I love him in all his forms. I wanted a dog for so long I used to have two imaginary dogs I referred to that followed me about called Frankie and Georgia. Frank has yet to get a little sister.
I always tell kids during school visits that Frankie helps me with my writing and illustrating. He's pretty good when it comes to editing and he likes to paint too (see my photos for evidence).
What would your pet tell us about you?
Oh, now that's a revealing question. Frank is nearly always with me, especially now I work from home. He sits on my feet as I illustrate and sleeps on my lap as I read and write. He'd likely tell you that while I'm illustrating a book I listen to one or two CDs on rotation. And sing. Loudly (badly). He'd tell you that I talk to myself a lot, even though I think I'm talking to him (he only understands dog). He'd tell you that I'm quick to laugh and quick to cry because I'm emotional that way, and I share it all with him. He'd tell you that he doesn't like it when I dress him in bunny ears but that he understands I always wanted a rabbit and he's willing to humour me.
I'm starting to think he has his own story to tell. I've been waiting for him to turn up in one of my stories…
If you were an animal, what would you be?
As a child I always wanted to be an eagle, because:
1) They could fly, which seemed like the most liberating and freeing thing one could do. I still get goosebumps at the thought. I have had many glorious dreams about flying.
2) They lived up above the world, on a cliff top like I did (my Dad built our childhood home on the side of a cliff).
3) They have no natural predators (this was important – I was a practical sort of kid, and I knew that the animal kingdom was a harsh one, so I wasn't so keen to give up my place on top of the food chain).
Any advice for people wanting a pet?
Not everyone is like me, but I see pets more as another member of the family. So I would say make sure you want a pet for the right reasons, and make sure you have enough love and time (and money I suppose) to look after them the way they deserve.
Oh, so many. Growing up I loved bunny books like Peter Rabbit and the Miffy series. Modern rabbits I love feature in Guess How Much I Love You and The Miraculous Journey of Edward Tulane. Other gorgeous and moving animal tales: Fox, Olivia and anything by Emily Gravett. And of course the ever adorable Selkie in Nim's Island.
---
---
Next post: Presenting new book babies →
← Back to all posts
Wendy Orr is a Canadian-born Australian writer. Her books for children and adults have been published in 27 countries and won awards around the world. Nim's Island and Nim at Sea have also become feature films, starring Jodie Foster and Abigail Breslin (Nim's Island) and Bindi Irwin (Return to Nim's Island.) Her latest book is Cuckoo's Flight, a companion to the highly acclaimed Bronze Age novels Dragonfly Song and Swallow's Dance. Read full bio
About Wendy
Subscribe to my email newsletter for updates