Artists and Animals: Argyro Gavalas, Designer
Despite what you might think from this blog, not all artists work with words or paper! To prove it, today I'm interviewing
Argyro
(or Roula) Gavalas, a Melbourne designer. I met her when I was looking for a dress for the Nim's Island premiere. It's the most beautiful dress I've ever owned: the only 'disappointing' thing was that I had envisaged a long and arduous day of shopping, and instead, my dress was the first thing I saw when I entered the shop. I knew it was the one – tried it on, and that was that! (My husband,needless to say, didn't find that disappointing at all.) I wore it for the world premierre on the Gold Coast, and again in Hollywood, at the Graumanns Chinese Theater, and it made me feel wonderful at both.
Her website is http://www.argyro.com.au.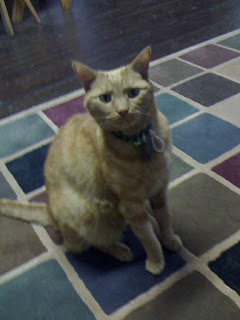 I loved hearing about Argyro's relationship with her four-legged companion – obviously one of mutual care and love. Isn't that what all relationships should be! This is what she had to say:
I have a gorgeous pet cat called Leo. He has been with me since he was 6 weeks old and he's now about 13. He is the most wonderful companion and I'm convinced that he tunes in to my moods and how I am feeling. He habitually likes to get me out of bed around 5:30 -6:00 am but one time I came home on a Friday night and was quite ill and throwing up which he witnessed. Then I crawled in to bed and woke at 12noon the next day with him sitting by my head on my pillow watching me quite intently. He hadn't made a sound at all he just watched over me till I woke up. I felt really cared for.
I am not a mother but when I went to meet Leo for the first time he had been feeding with a dropper because his mother had abandoned him and he was one of 2 surviving kittens from a litter of 11. Anyway he'd been just fed and I put him on my palm because he was that little and he rolled over and burped! I bonded instantly with him then and there….this incredible feeling came over me which I'd never felt before….it was a warm feeling and I was awestruck by him and this little life that I was holding in my hands.
I'm still very much in love with my Leo. My partner Mark understands of course.
Dress contrasting nicely with Jodie Foster's aqua at Sea World
and with its shawl (and the family!) at the start of the Hollywood red carpet.
---
---
Next post: Guest Blog on Island Stories Blog →
← Back to all posts
Wendy Orr is a Canadian-born Australian writer. Her books for children and adults have been published in 27 countries and won awards around the world. Nim's Island and Nim at Sea have also become feature films, starring Jodie Foster and Abigail Breslin (Nim's Island) and Bindi Irwin (Return to Nim's Island.) Her latest book is Cuckoo's Flight, a companion to the highly acclaimed Bronze Age novels Dragonfly Song and Swallow's Dance. Read full bio
About Wendy
Subscribe to my email newsletter for updates